How Does An MLS Listing Affect My FSBO Listing on Zillow/Trulia?
The default behavior of Zillow.com (which owns and feeds into Trulia.com) is to override your FSBO listing with the MLS data.
If you have a Zillow FSBO listing and want to list on the MLS, you do not need to take down your Zillow listing. Zillow will automatically override your FSBO listing with the MLS listing.
Can I stop the MLS listing from overriding the Zillow FSBO listing?
Yes, but it is not recommended. When you are filling out the MLS listing forms on homecoin.com, the forms will ask if you want your MLS listing to syndicate to websites. By selecting "No", the MLS listing will not override your existing Zillow FSBO listing.
The main downside to selecting "No" to website syndication is that your listing will not appear on any websites, such as redfin, realtor.com, broker sites, etc (so you miss out on potential buyers). The secondary downside to keeping the Zillow FSBO listing is having real estate agents calling to solicit your listing.
In addition, Zillow has now changed the way they display FSBO listings, so they are not grouped together with MLS listings (see screenshot below) so they are not as easy to see (many buyers may overlook this option). Note that our phone number (888-400-2513) is setup so buyers and agents can speak with you instantly.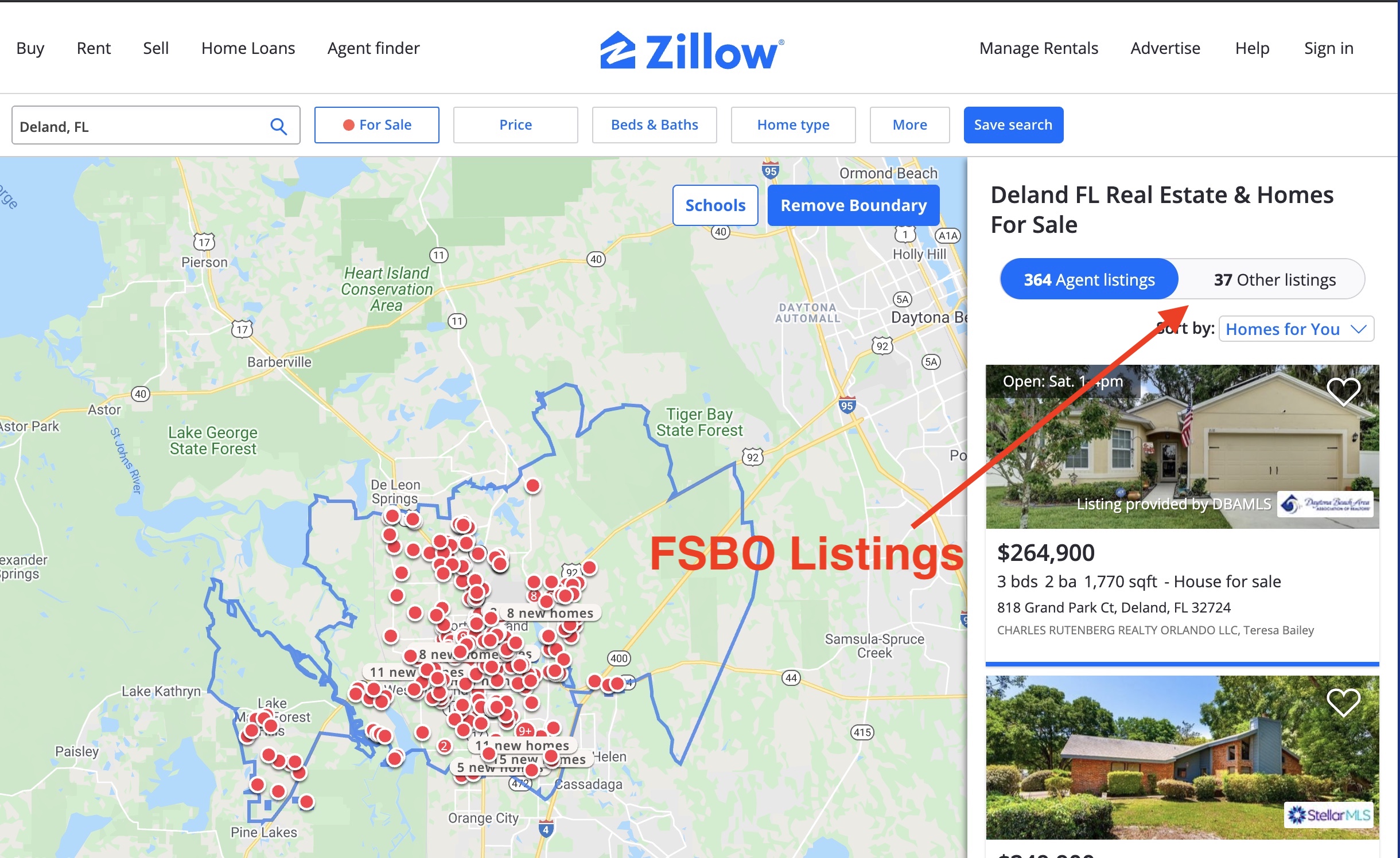 Can I still make changes only to my Zillow listing (e.g. add my contact info) even if the MLS listing overrides it?
Unfortunately, Zillow no longer gives us the ability to add/change information on their website.
Why are my Zillow / Realtor.com buyer leads going to other real estate agents and not to the listing agent (homecoin.com)?
One way that Zillow / Realtor.com makes money is by selling leads to buyer agents. The fact they are selling these buyer leads is a point of contention within the real estate industry, as the listing agents believe the leads should go directly to the listing agent.
One of the arguments these websites make for selling the leads is this is how they can keep the website running. The fact remains that Zillow / Realtor.com / etc do sell the leads and there is nothing we can do to stop that.
As always, any buyers that contact homecoin.com directly will be forwarded to you via email and any buyers that call/text us, will be automatically provided your info.
What phone number will display on Zillow, etc?
Typically the websites will display a phone number to one of their sales reps. The websites make money by selling buyer leads to agents (see above) and there is nothing we can do to stop them from doing this, aside from not allowing the listing to appear on websites, known as "disabling syndication".
Note that the rules for listing attribution are changing and in the future all websites will need to display some form of contact for the listing agent. Our phone number (888-400-2513) is automatically setup to forward leads direct to our sellers (please try it!) and our email software is also able to automatically forward most leads to our sellers (others that do not forward automatically will be manually forwarded within 24 hours).
We can disable syndication from the MLS to websites and you can create a FSBO listing on Zillow, however those listings are difficult to find on Zillow, you lose out on other major sites that buyers view (redfin, realtor.com, broker sites), and most buyers are not comfortable dealing direct with the seller. Due to the above, we believe the best interests of our sellers is to allow the listing to syndicate normally from the MLS to websites (but we are happy to do whatever you like).
How do I stop Zillow from displaying the Zestimate, also known as the auto valuation model (AVM)?
On most MLS listings, there is a field for "AVM" or "Auto Valuation Model". The field is for telling the MLS if you want to allow websites to display the computer generated estimate of the home value (AKA Zestimate on Zillow). The options are "Yes" or "No".
If you select "No" to the "AVM" field, then websites should not be displaying the home value estimate. Note that we cannot control whether or not websites display the value estimate. If you have selected "No" but are finding that Zillow is still displaying the value estimate (AKA Zestimate) then you should contact Zillow directly here
Are Rental Listings Handled Differently?
Yes, Zillow/Trulia stopped accepting rental listings from most MLSs, so you would want to create a free rental listing on Zillow.